Tools for today's interviewing.
Introduce yourself through an authentic and personable interview process that candidates will appreciate.
One-way is

Replace time-intensive and ineffective phone screenings with One-Way Interviews - prerecorded video screenings to help you see the potential in your applicants.
It's as easy as 1-2-3!
Add your questions
Send the link to your applicants
Review the results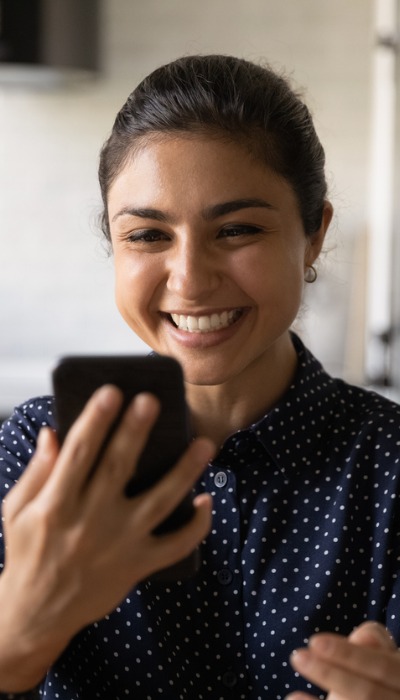 An experience applicants will love.
Interviewing is a two-way street. Impress applicants with a convenient and flexible interviewing experience that helps them put their best foot forward.
Works with their schedule
Is engaging and inviting to applicants so they feel at ease
Demonstrates your company culture
Gives each applicant the chance to reach the next step
Features
---
Video Interviews
Schedule interviews to connect face-to-face with candidates. All interviews are recorded and saved in your account to review and rate at your convenience.
Interview Scheduling
Schedule interviews directly from the platform and add to your calendar.
Candidate Screening
Create assessment templates and send unlimited invitations to speed up candidate screening.
Branding
Brand screening assessments and video interviews with your organization's name and logo.
Rate & Review
Quickly share your thoughts and comments on potential hires.
Various Response Types
Give candidates the option to respond to question via video, text, or audio.
Jobs
Post unlimited jobs to schedule live interviews or request candidate screening assessments.
Sharing
Collect feedback from hiring managers without requiring a log in.
Retry Limits
Set time limits for a candidate's video responses and limit the number of times a candidate can retry.
Teams
Organize your interview staff into teams to align with your internal hiring process
Interview Tagging
Use tags to organize your interviews.
Google Chrome Extension
Create, review, and share interviews from any website you're viewing.
Video Library
Use our library of pre-recorded interview questions or record your own to include in on demand video interviews.
Account Setup Assistance
We work with you to get your account set up and ready to start interviewing fast!
Export and Download
Export interviews into an excel sheet and download video interviews in bulk to backup data for compliance.
Live Chat
Chat with colleagues and candidates during live video interviews.
Dial-In Options
Can't get to your computer? Use your phone to call into an interview or meeting.
Screensharing
Need to show a candidate something? Share your screen or give candidates access to share their screen.
Analytics
Gain insights into your ROI and interview performance with advanced analytics
Dedicated Customer Support
Our customer support team is ready to answer any questions you have.
On Demand Interviews
Create unlimited on demand interview templates to send to candidates to request video responses.